Opening Hours:
every day 9.00-22.00
(changes will be communicated later)
Textile (use of swimsuit in the sauna):
Textile Sauna
Other Services:
Thermal park on the shores of Lake Garda, indoor and outdoor thermal pools, outdoor freshwater pool, indoor and outdoor thermal whirlpools, Kneipp thermal path, Bar, Restaurant, Store, Treatment and massage area, Yoga, Saunas, Turkish baths, argillarium, herbal tea area, salt room, relaxation area (music room, sky, fireplace, rain, mountain, stars, spring, volcano and minerals)
Email:
Website:
Daily Capacity:
More than 240 entries
Number of saunas (dry saunas and Turkish baths):
4 - 6 saunas
Presentation:
In a marvelous medieval village rich in history, the "Pearl of Garda" so praised by Catullus, there is Aquaria , the Thermal SPA of Terme di Sirmione. An oasis of well-being in a large park, where you can experience intense moments of pleasure all year round, day or night, alternating the sensory experiences of thermal water, steam and heat, the pampering of personalized treatments. Immersed in the thermal water and in the splendid view of Lake Garda that touches Aquaria with the enchantment of its sunsets, guests rediscover beauty, balance and harmony.
Aquaria is over 15,000 square meters of wellness, of which 700 of thermal water. Swimming pools, whirlpools, vascular path, effervescent beds in which to immerse yourself and be reborn. The infinity pool with fresh water seems to merge with the landscape, and the gaze is totally lost in the waters of Lake Garda.
Finnish, Mediterranean, Turkish, steam, Roman baths : many ways to experience the benefits of heat on the skin. In fact, through sweating, toxins are eliminated and an increase in heart rate is stimulated, equal to moderate physical exercise. In addition, the skin appears softer and more radiant. Discover the details of each stage to live a complete experience, optimizing the benefits and regaining balance.
Saunas specifications
Saunas and Turkish baths in the center: 7
Finnish Sauna Lake
| | |
| --- | --- |
| | 90 °C |
| | 10% humidity |
| | 16 seats |
| | Aufguss: Yes |
Typical wooden sauna in the garden overlooking the lake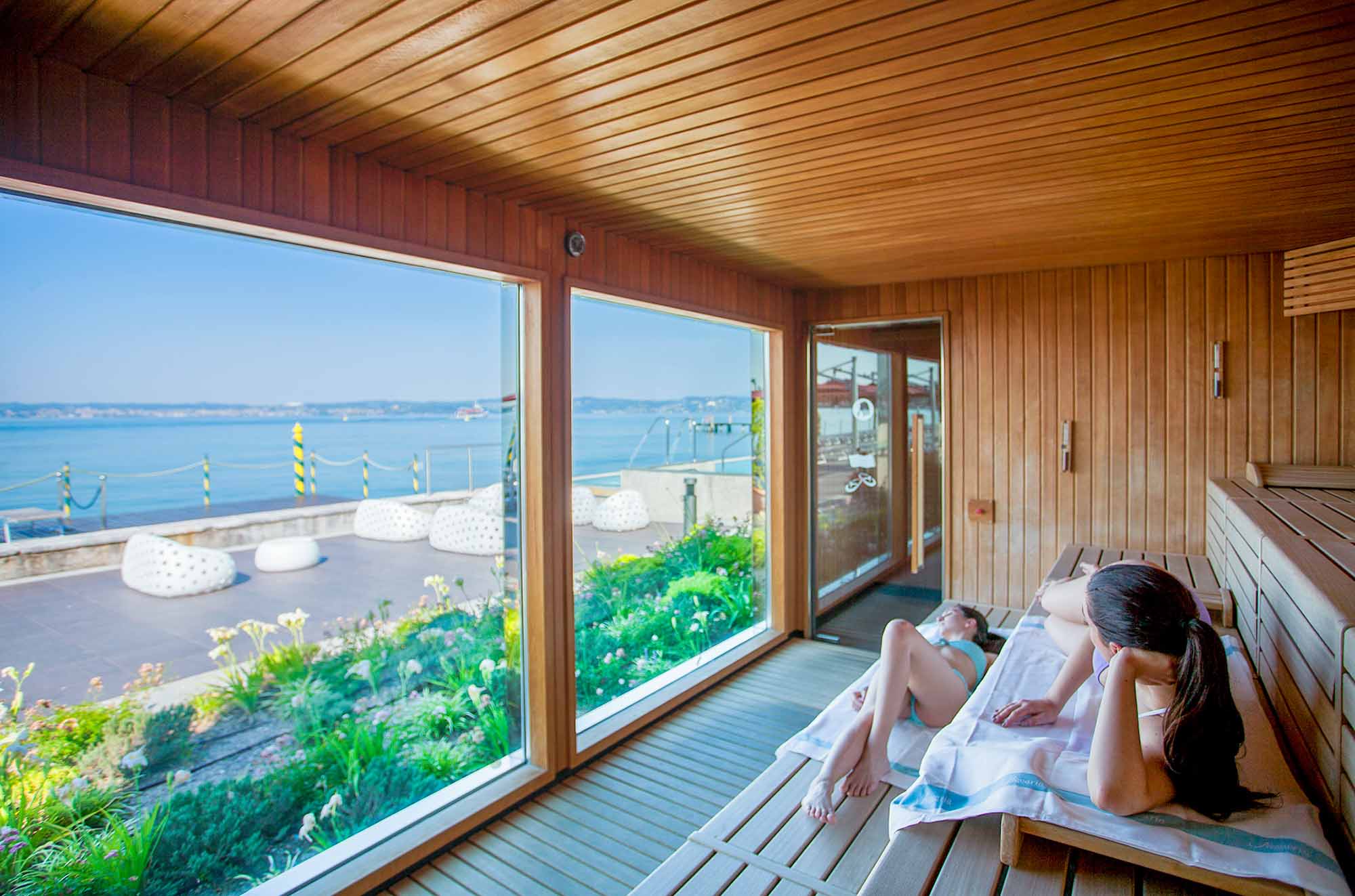 Mediterranean sauna
| | |
| --- | --- |
| | 60 °C |
| | 30% humidity |
| | 16 seats |
| | Aufguss: No |
Typical wooden sauna, with lower temperature but higher humidity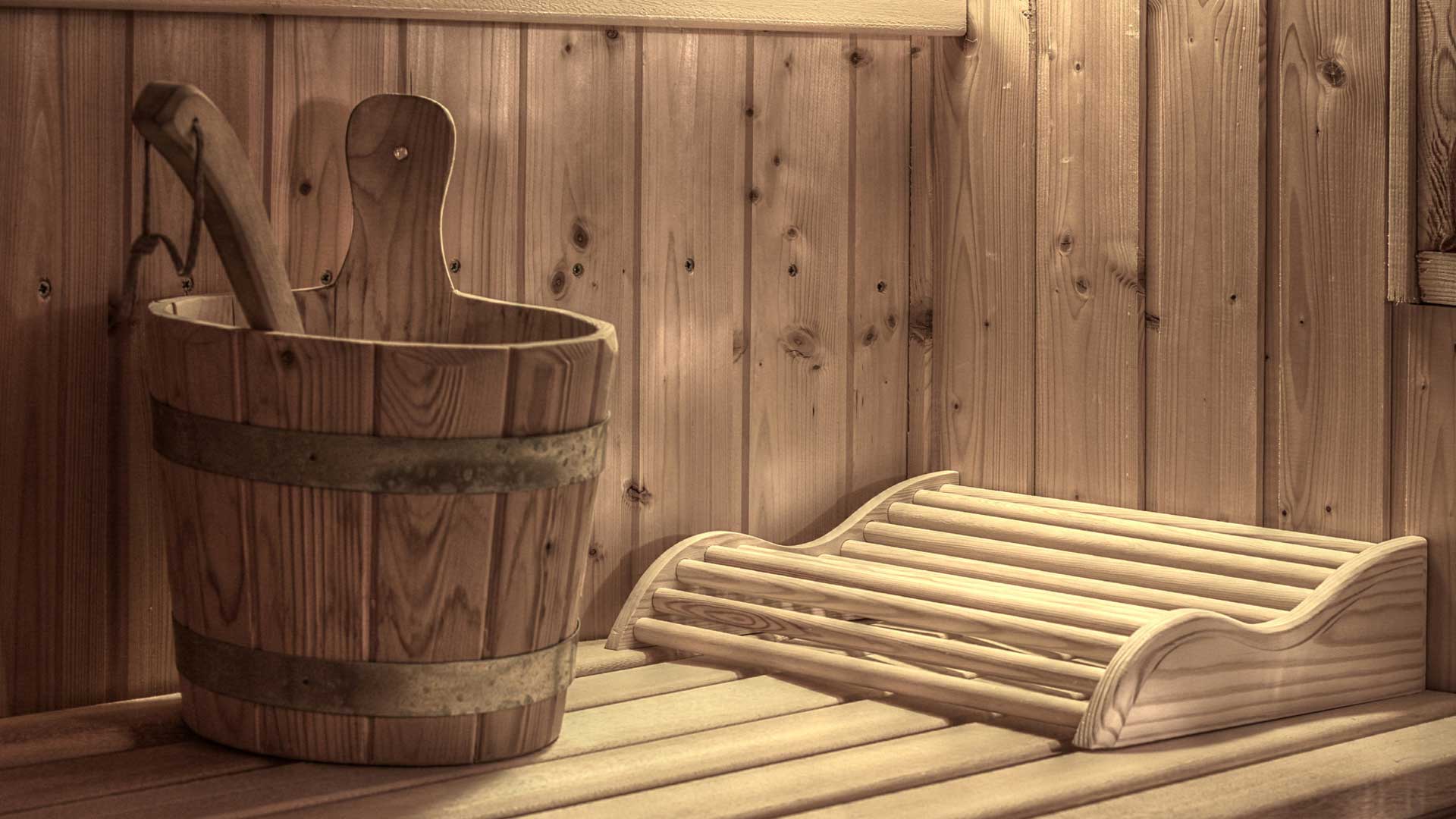 Roman bath
| | |
| --- | --- |
| | 40 °C |
| | 50% humidity |
| | 10 seats |
| | Aufguss: Yes |
Stoneware sauna bathroom with heated benches and walls