Address:
Borgo dello Sport e del Benessere, Sauris (UD)
Google Maps 46.46429177019852 12.693058684398476
Region:
Friuli Venezia Giulia
Opening Hours:
Winter time:
Friday 16.00 - 20.00, Saturday, Sunday and holidays 10.00-20.00, Monday 10.00-14.00
Summer opening hours:
every day 14.00-20.00
Textile (use of swimsuit in the sauna):
No-textile Sauna
Other Services:
garden, swimming pool, Kneipp path, outdoor solarium, emotional showers, relaxation rooms, gym, possibility of massages, yoga lessons, meditation and gong baths, bar and outdoor restaurant
Email:
Website:
Daily Capacity:
Less than 60 entries
Number of saunas (dry saunas and Turkish baths):
Less than 4 saunas
Discount reserved for AISA members:
20%
Presentation:
The Grien SPA is located in the Borgo dello Sport e del Benessere, adjacent to the campsite, halfway between Sauris di Sopra and Sauris di Sotto.
The swimming pool and relaxation rooms overlook the forest and the path that leads to Mount Ruke.
The environments and services available: you can swim in the pool, relax in saunas and steam baths, try aufguss, scrubs, beauty treatments and massages, read a good book while sipping a purifying herbal tea in the cozy wood-paneled relaxation rooms, overlooking the mountains .
If you love practicing Yoga, Pilates or other meditative techniques, you can participate in the activities and seminars organized in the cozy wood-paneled rooms. Furthermore, in our equipped gym, you can continue the training program you follow in the city.
In summer, a cool breeze will caress your skin as you relax in the outdoor solarium and admire the woods surrounding the wellness center.
The Grien SPA is open to both guests of the Albergo Diffuso Sauris and external guests.
Our wellness area is non-textile, you enter the cabins without a swimsuit or wrapped in a cotton towel that you can rent directly from us.
Saunas specifications
Saunas and Turkish baths in the center: 3
Finnish sauna
| | |
| --- | --- |
| | 80 - 90 °C |
| | 20% humidity |
| | 20 seats |
| | Aufguss: Yes |
Finnish sauna with central brazier, on the sides three levels of seats on the right and two levels of seats on the left.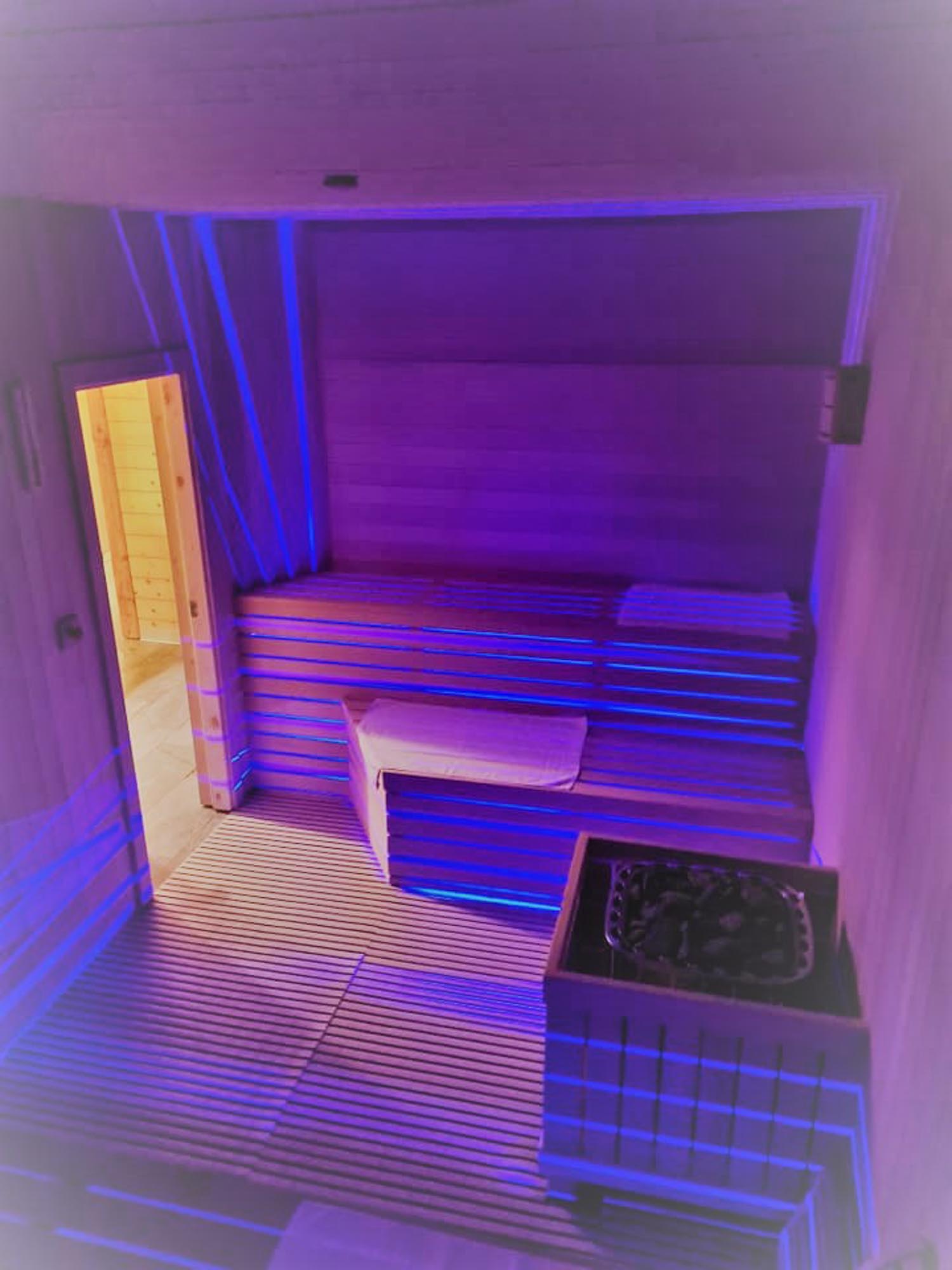 Infrared sauna
| | |
| --- | --- |
| | 45 - 50 °C |
| | 20% humidity |
| | 2 seats |
| | Aufguss: No |
Wooden cabin heated through infrared radiant panels.