Opening Hours:
10 - 20 every day Sunday closed from May to September, Tuesday closed from October to April
Textile (use of swimsuit in the sauna):
Textile Sauna
Other indications:
in the saunas it is not allowed to use a bathing suit, but a towel / sauna sarong is provided to the customer, naked is not allowed. Access to the steam room is with the use of a bathing suit and a disposable towel.
Other Services:
Thalasso bath with Dead Sea salts, heated whirlpool, outdoor garden park with refreshing showers, outdoor natural kneipp area with refreshing showers for cooling with original Kneipp tube. Emotional showers with wonder cycle with citrus fruits and mint mist, bar inside Villa Giulia with outdoor terrace in the park. Indoor and outdoor relaxation room, oasis of the sun in the garden park where you can sunbathe with comfort beds and umbrellas, outdoor pond, beauty area with massages, treatments and aesthetics, location for events.
Website:
Daily Capacity:
Less than 60 entries
Number of saunas (dry saunas and Turkish baths):
Less than 4 saunas
Discount reserved for AISA members:
10%
Presentation:
A haven of peace, well-being, nature and relaxation. Villa Giulia rises like a pearl in the fascinating location of Jesolo, surrounded by greenery and surrounded by the charm of the historic walls. Our day spa has stood out since its inception for an approach that aims to offer an all-encompassing experience of well-being: services,
events and special occasions to always offer unforgettable moments, which can regenerate the body and spirit of all our guests. A location that enriches its offer of wellness services with suggestive
itineraries on two wheels, events dedicated to the family and with the organization of special occasions such as weddings, baptisms and birthdays.
Inside our Spa Area, equipped with air treatment without recycling, you will have at your disposal: Thalasso Bath with Dead Sea Salts hydromassage, Finnish Sauna with automatic self-ventilated aufguss and without air recycling, Bio Sauna and Steam Bath. You can complete your wellness program and
relax by taking advantage of our flavored showers with wonder cycle and mint mist and then relax in the indoor relaxation room or the brand new outdoor relaxation area under the open sky. Here you can stroll along
the natural dry Kneipp path to reactivate the circulation of the legs and finish everything with a gentle and soft self-massage with fresh water for immediate benefit.
Saunas specifications
Saunas and Turkish baths in the center: 3
FINNISH SAUNA
| | |
| --- | --- |
| | 95 °C |
| | 15% humidity |
| | 18 seats |
| | Aufguss: Yes |
New technology sauna with internal self-ventilation without air recycling but only fresh and clean air from the outside, music and automatic aufguss. Entrance with two doors with central brazier.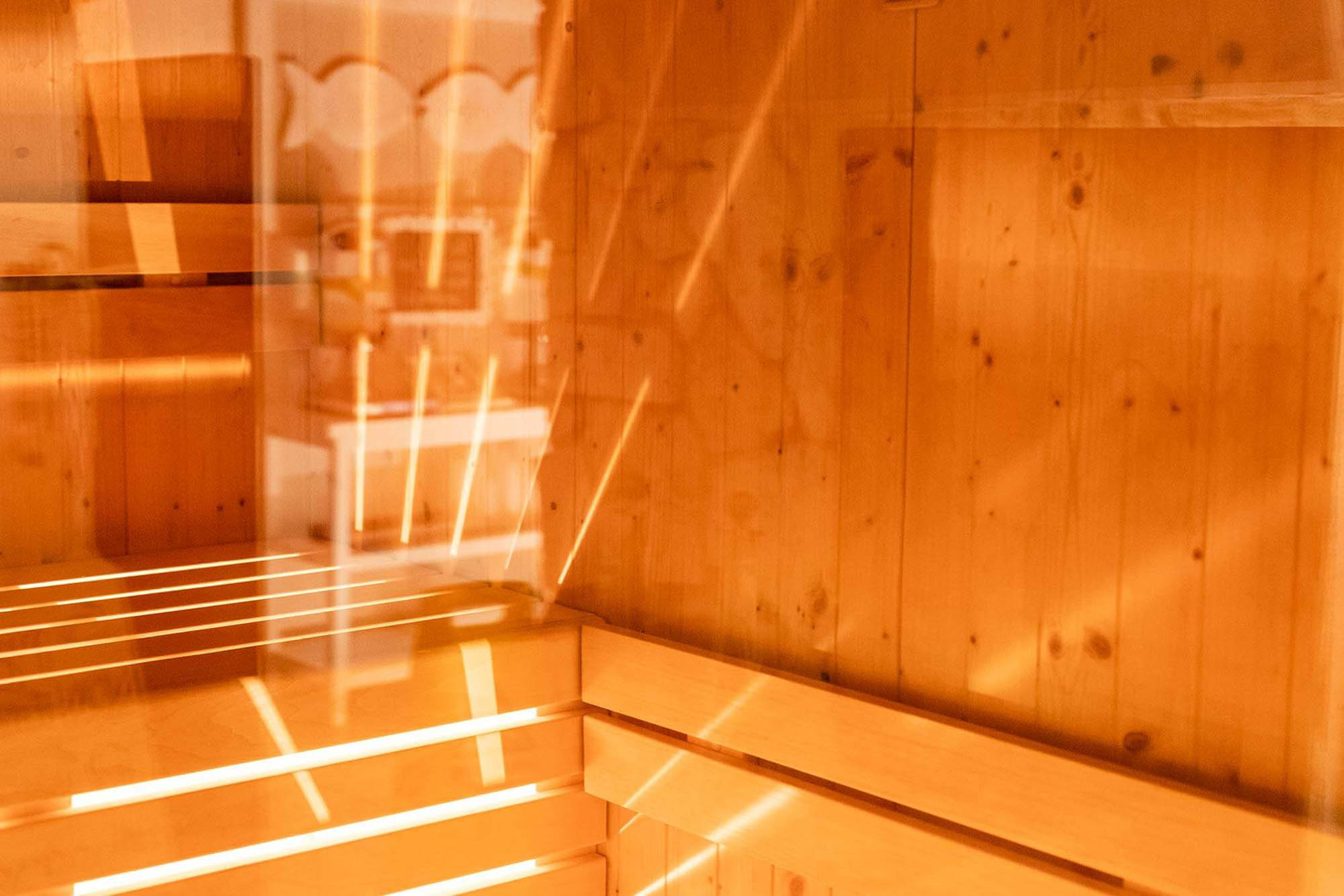 BIO SAUNA – VITARIUM
| | |
| --- | --- |
| | 60 °C |
| | 40% humidity |
| | 6 seats |
| | Aufguss: No |
Vitarium sauna with aromatherapy, music therapy and chromotherapy.